If you're an HVAC professional who's ready to take a pivotal step in your career, check out the HVAC jobs at Clover Services. Clover welcomes all HVAC professionals who are passionate about impacting lives through their skills. Apply for our HVAC job openings to work with an empowering team that provides equal opportunities and fair treatment to all its team members.
We've been helping customers with our round-the-clock service and a sustainable approach that has won us several awards. We are always on the hunt for talented individuals who share a similar vision and want to be a part of our growing team.
Why Should You Work With Us
We believe in evaluating individuals based on their skills and talent. Hence, applicants from diverse backgrounds are welcome to apply and work with us.
If you are looking for HVAC job opportunities, you are in the right place. Our employees are the pillars of our company. In addition to a healthy work environment, we also provide competitive compensation, company-paid life insurance, and disability benefits, free training, and ample opportunities for career growth.
Our core values include enhancing and supporting the mutual growth of every team member. We leave no stone unturned to provide our employees a work environment where they're encouraged to be their best versions.
To serve our customers better, we are always on the lookout for talented, self-driven individuals who are team players and will add value to our organization.
A suitable candidate will:
Have a clean driving record
Have a valid driving license
Is from the cities we operate in or is ready to relocate
Is a fast learner
Has relevant experience
Has excellent time management skills
Adhere to company policies
Deliver excellent service
Meet customer expectations
Is hardworking and responsible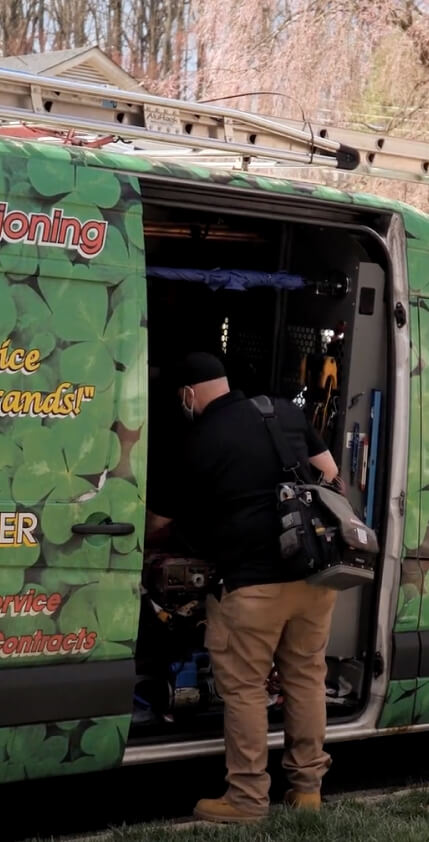 How We Add Value To Our Customer's Life
With people's rising inclination towards a comfortable lifestyle, the demand for efficient HVAC systems and HVAC job opportunities is increasing. Research shows that the global HVAC market size was valued at 127.4 billion USD in 2020. Moreover, the industry is expected to grow at an annual rate of 5.9% from 2021 to 2028.
Efficient systems create the need for experts to supervise the installation process as well as cater to repairing and maintenance demands. That's where Clover Services steps in. We at Clover provide the best HVAC service in the market for a variety of systems including furnaces, air conditioners, water heaters, etc. Our diverse team consists of professionals from different backgrounds and expertise.
Why Is Our Service Important?
We add comfort to our customers' lives. An aptly functioning heater or an air conditioner (depending on the weather) provides a cozy ambiance for our customers.
A well-maintained HVAC system will also keep the air quality in check.
Regular maintenance also reduces the risk of sudden system failure.
On-time maintenance adds to the lifespan of the system and makes your investment cost-effective in the long run.
If you think you'll be a good fit for our team, fill the form, or contact us at 703-352-2701, or send us your CV at service@cloverco.com to take the discussion forward. We look forward to meeting you!